Pennwell's Hardcore Maven in the Semiconductor Manufacturing Industry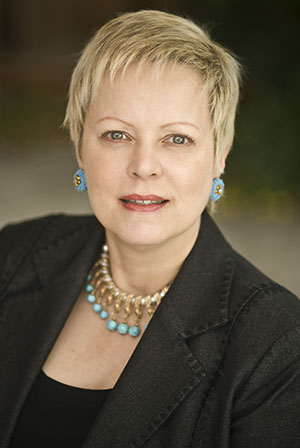 Our #FollowFriday Worthy recommendation this week is Debra Vogler, one of Pennwell's most interesting and colorful senior technical editors who edited four of its top high-tech books: Solid State Technology, Photovoltaics World, Advanced Packaging, and Small Times.
I say "interesting and colorful," because each time I facilitate her interviews with any of our clients, I can't get over two things. First is her technical depth and knowledge in the semiconductor manufacturing field, and second, her striking beauty that can easily throw off anyone's stereotype of a semiconductor engineer.
True Blue Techie Egghead
Debra is a hardcore techie. She earned her BS and MS degrees in physics from Marquette University before working 20 years in the defense and semiconductor equipment industry as an engineer.
After a brief stint in PR, she began her writing career in 2000 as the editor of an online publication covering the semiconductor industry, where she created almost all of the now-defunct site's original content and initiated video interviews as well as audio casts (long before iPods existed!).
Debra joined PennWell in 2001 as a Senior Technical Editor and continues her love for online video production. You can see many of her podcast interviews, as well as news stories, on the www.electroiq.com site.
I met Debra in the early nineties when we first launched one of our longtime clients at Cross Border Communications. The more we saw of Debra, the more impressed we became. She has become a great source of information for us and for our clients, plus she always brings great technical conversation and exchange of ideas when our key technical contributing clients engage with her. The best thing is, our highly technical clients can actually have a purely techie dialogue with an exceptional journalist who is true to her beat.
Get to Know Debra
Debra's casual style makes her approachable and engaging. Recently we caught her at a trade show, and here's what she shared with us:
Laughs at: the absurdity of politics.
Hopes: to be a filmmaker as I hurtle head-long into old age.
Thinks: it would be bliss to be an astrophysicist.
Reveals: probably more than I should.
Dream coffee date: actually being able to have any kind of blinged up coffee is a dream itself (i.e., something with steamed milk, which I can no longer have – now see my response to "reveals").
Is inspired by: my late mother; she had a zest and love of life in the face of great obstacles. Her death after a prolonged series of medical problems and illnesses was heartbreaking.
If you seek a truly technically knowledgeable journalist and someone who knows plenty about semiconductor manufacturing, Debra is your superwoman.
Tip: I believe that Debra's short stint in a PR agency before her journalism career has made her appreciate the PR professional. She seems to be more engaging, compared to a few technical writers I've come across over the years. As long as you approach her with something interesting that will bring value to her readers, Debra will open her ears and look into your pitch.
Follow Debra Vogler on Twitter
Find her articles, blogs and podcasts at Electroiq.com
---
Liz Estrella-Basilio is Elena Verlee's San Francisco partner at Cross Border Communications. Together they work with start-up to multi-million dollar technology companies who want to get their story heard in traditional, digital and social media.
She recently revived her Twitter account and will be out on the prowl to find those who are truly #FollowFriday-worthy on Twitter. Follow her at @lizestrellab.
---
Elena is founder of a
technology PR
agency that works with startups to billion-dollar companies. She is passionate about helping marketers and small business owners with practical publicity strategies, which she's also using for her own
bling flip flop company.
Did you enjoy this post? Subscribe now and get new posts either via RSS feed or your email. Please click on the RSS button below or type your primary email address below and click "Subscribe."
---